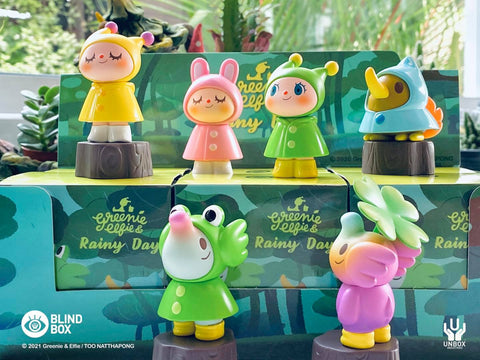 Greenie & Elfie "Rainy Day" Series by Too Natthapong x Unboxed Industries
The World of Greenie & Elfie now has it's very own dedicated blind box series, introducing Greenie & Elfie "RAINY DAY" series.
Elfie, Greenie & Kiwi are dressed for when the heavens open!
This collection was originally made available for sale in early April and we are excited to announce that we will have this series available on our shop early next week.
There are 6 original figures to collect and they are all so darn adorable in their raincoats or rain accessory.  There are three Greenie figures; "Bunny" in her pink rabbit raincoat, "Sleepy" in her yellow raincoat and "Rain Slicker" in her slick green coat with yellow rain boots.  Also included in the set are a pair of Elfie figures.  The first is Elfie wearing a cute green frog like raincoat and the second Elfie holding a a little adorable 4 leaf clover umbrella.  Kiwi also makes an appearance with an adorable baby blue custom-fit raincoat.  OMG, they are too cute! 
There are also two chasers available to collect.  The mystery silhouette seems to suggest a chase Elfie with a conventional umbrella as well as a "secret colour" variant.
Each figure includes a tree stump display stand.
Designed by Too Natthapong
Here is a cute clip from Unboxed Industries FB page featuring this adorable series: