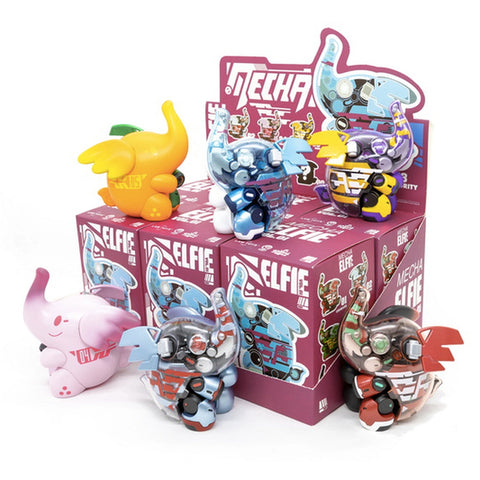 New Mecha Drop??
Who's ready for the new Mecha Elfie blind box series by LAM TOYS x Unbox Industries x Too Natthapong?  
Elfie has been transformed to a half elephant, half cyborg ready for the future.  The figures feature a half original design and half dissected exoskeleton.  While the "original" side is the Elfie that collectors know and love, the Mecha side displays the innerworkings and exterior detail.
This series is available in 6 styles (Not official variant names); Laker's theme (LOL), Tangerine, Cotton Candy Pink, Pearl White, Matte Grey and Matte Magenta/Black.  The cyborg halves are interchangeable as we've learned from previous Mecha series. 
There should also be 2 chaser's available to collect as in previous Mecha drops.  OMG…. I can't wait to see these cuties!  🤤🤤
This collection should be available on Friday July 23rd.