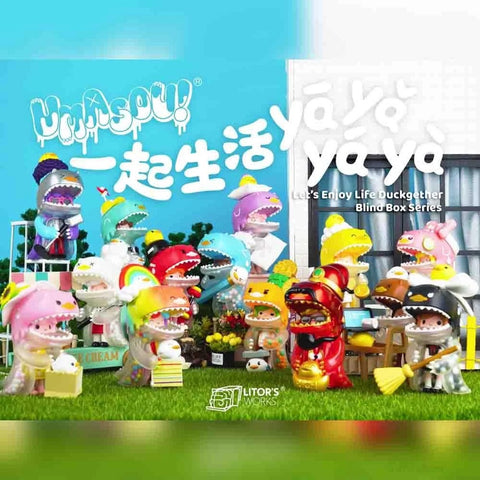 LET'S ENJOY LIFE DUCKGETHER
Set to arrive in late February 2021, Beijing based Litor's Works teased their drop of the newest Umasou - Let's Enjoy Life Duckgether.  (Post provided below).
I love this company and the beautiful collections they have created over the years and I know you all do too!  From their hilarious expressions to cute accessories, Umasou's have definitely amassed a cult like following worldwide.
This series includes 12 characters and 2 chasers. Fortunately or unfortunately, one of the chasers is the rainbow coloured Umasou which I already know everyone LOVES. The other chaser is the red fortuneteller looking guy. It is supposed to closely resemble Caishen (The God of Wealth), an ancient Chinese mythological figure worshipped in Chinese folklore.  It also comes with a matching gold duck in the shape of a golden nugget or ingot. The ingot was the currency used during imperial China in the Qin dynasty. Both chases will most definitely be in high demand. My husband is already calling dibs on that fortune teller.  😆 😆 
Overall, this series was beautifully put "Duckgether".  And I can't wait to unbox a set and show you all the collection in detail.  Fear not, I will have a large quantity available for sale.  Both open and in blindboxes.  I will announce the drop on my social, once I've received them. So don't forget to follow @ToyDonutShop and @ToyDonut on Instagram.
Happy Lunar New Years everyone. I hope that everyone has a happy and prosperous year of the OX. I am an ox. Don't guess my age. 
LITOR'S WORKS INSTA POST ON JANUARY 28TH, 2021
"Here comes the brand new blind box series of Umasou! — Let's Enjoy life Duckgether! In the past 2020, we have been troubled by the COVID-19, and for this reason we have lost a lot of the joy of life that we should have. I hope that in the new year, we can get rid of the pandemic as soon as possible and return to the usual order of life. Also the bright smiles without masks of everyone on the street can be seen. Although we will have a hard time in 2020, let us fight for a better life in 2021. Umasou! — Let's Enjoy life Duckgether blind box series will be on sale soon. Please stay tuned."

"一起生活鸭"盲盒是2021年Umasou!全新系列,过去的2020年我们都被疫情所困扰,为此也失去了很多本该拥有的生活乐趣。希望新的一年我们能尽快摆脱疫情的困扰,生活重归以往的秩序,口罩将不再是必需品,我能看到大街上每一个人灿烂的笑容。虽然2020年我们过得很艰辛,但2021年让我们一起为了更好的生活努力拼呀!"一起生活鸭"盲盒系列即将开售,敬请期待。"

#litorsworks #umasou #blindbox #umasoublindbox #designertoys